Location
On the top of the Litany Desk supporting the book rest - on the south (right) side of the chancel.


Memorial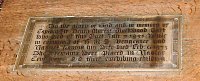 Inscription
To the Glory of God and in Memory of
Captain Sir Henry Martin Blackwood Bart
who died at this port Jan 7 1851 while
in command of HMS Vengeance and
Harriet Louisa his wife died feb 6 1873
Their remains were placed in Haslar
Cemetery dd: their surving children.

Further Information
See also the memorial to Captain Blackwood in St Ann's Church.