Location
Two windows in The Holy Martyrs Chapel (see Cathedral Plan).


Memorial Window (Left)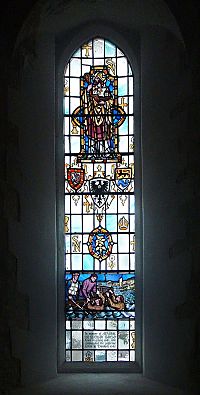 Memorial Window (Right)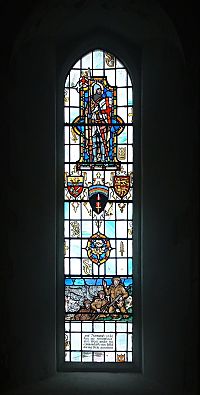 Inscription (Left)
IN MEMORY OF ADMIRAL
SIR BERTRAM RAMSAY
KILLED IN ACTION 1945, WHO
COMMANDED THE SEABORNE
FORCES AT DUNKIRK 1940

Inscription (Right)
AND NORMANDY 1944
HERE ARE REMEMBERED
ALSO THOSE UNDER HIS
COMMAND WHO WERE KILLED
DURING THESE OPERATIONS

Further Information

The window on the left depicts St.Nicholas, the shields of Dover & Dunkirk, with the black eagle of Ramsay in the centre, and the evacuation of the British Army from the beaches of Dunkirk. That on the right shows St.George, the arms of the Diocese of Portsmouth and the leopards of Normandy; in the centre is the shoulder-flash of the Supreme Headquarters Allied Expeditionary Force, which was situated in Southwick House, near the site of the old Priory of the Cathedral's mother church. The allied liberation armies pictured landing below on 6th June 1944, were controlled from Southwick, and many left from the beaches of Southsea. The nettle and the flower, one in each window are references to Hotspur's speech in Act II Scene III of Shakespeare's Henry IV part I: '...out of this nettle, danger, we pluck this flower, safety'. In 1945, certain victory having been secured, the Hudson plane carrying Admiral Ramsay and four of his staff crashed on take-off, killing all on board.

See also the memorial to Admiral Ramsay in the D-Day Museum.