Location
In the centre of the north ambulatory (see Cathedral Plan).


Memorial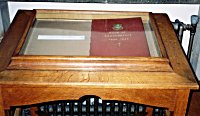 Further Information

The two books are each contained in a glass topped desk. The desks are identical.

The two leather bound books record the names of all the civilians killed in the County Borough of Portsmouth between 1939 and 1945, representing pages 443-472 from the national roll which is held at Westminster Abbey.