Location
In a display cabinet at the eastern end of the north ambulatory (see Cathedral Plan).


Display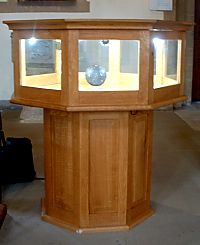 The Cannonball
Inscription
This cannonball weighs 8.16kg (18lb).

It was discovered in 1938 during work to enlarge the Cathedral when the foundations of the new nave were being dug. This cannonball was one of many fired at the Church of St. Thomas from Gosport by Cromwell's troops on the 3rd September 1642 during the Civil War.

At that time Portsmouth was a Royalist town being defendd by soldiers of King Charles I. Cromwell's men laid siege to the town, wishing to capture this valuable military and naval stronghold. An obstacle in their way was St. Thomas's tower which, being the highest point in the town with a 360 degree view of Portsea Island, Spithead and the harbour, was being used as a look-out position by the defending garrison. An account of the time said 'The gunners shot through the tower of the Church and did brake one of the bells...and (cannonballs) rebounded and fell into the Church.' Although severe damage was done to the whole church and to surrounding houses, no people were killed.

That night Southsea Castle was taken and Portsmouth surrendered.




Further Information
See "The Seige of Portsmouth" on the History in Portsmouth website.