Location
About half way along the Western wall of Kingston Cemetery (see map).

Details
This memorial commemorates those civilians who lost their lives in bombing raids during WW2. It was erected in November 2011 as a replacement for one that was vandalised during the summer of that year. The original plaques displayed the names in approximate order of the date of death, including the inscription "Unidentified" where relevant; the replacement plaques show the names in alphabetical order and group the unidentified together as a single common commemoration.


Memorial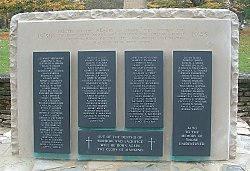 Location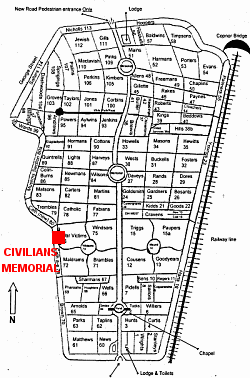 Remembering (9th Nov. 2011)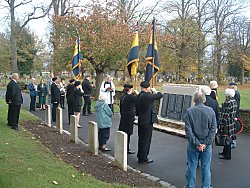 Original Panels 1 and 2
Original Panels 3 and 4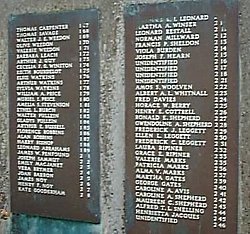 Inscription
"Erected to the memory of those men, women and children both known and unknown who died as a result of enemy bombing on this city and whose last resting place is near this spot."
PANEL 1
LEONARD ABRAHAMS
CAROLINE A. AVIS
GERTRUDE M. BAKER
ISAAC T. BAKER
DORIS BALL
KATHLEEN C. BARBER
JOAN BARRON
STEPHEN E. BATH
GEORGE BECK
HENRY C. BENNETT
NELL H. BENNETT
HORACE W. BERRY
HARRY BISHOP
EDITH BOURDELOT
EDWARD BRADBURY
VERA BRYMER
ETHEL L. BURCH
VIOLA BURDEN
THOMAS CARPENTER
CAROLINE COOPER
ETHEL E. COOPER
LILY C. COOPER
HENRY E. COTTRELL
KATE COUSINS
SARAH A. CRESDEE
JOSEPH CUDDIHY
GEORGE H. DAKIN
CLARA DARLING
FRED DAVIES
EDWARD G. DIVERS
PETER S. FUTCHER
GEORGE GATES
MARTHA GATES
ELLEN M. GERMAN
LOUISA GERMAN
KATE GOODERHAM
JOHN C. GREEN




PANEL 2
ARTHUR J. GUY
GEORGE R. HARRIS
JOSEPH F. HEARN
GLADYS HOLMES
KATE HOLMES
HENRIETTA JACQUES
ISOBEL JOHNSON
ANNABELLA JUDGE
ANNE B. JUDGE
HERBERT H. KITCHENER
BARBARA LEACH
ELLEN L. LEGGETT
FREDERICK C. LEGGETT
FREDERICK J. LEGGETT
HARDING LEONARD
EMILY McJANET
ERNEST MALE
ALMA V. MARKS
PATRICIA MARKS
VALERIE MARKS
HENRY MILLER
NORMAN MILLWARD
FLORENCE A. MOULAND
GEORGE H. NEWMAN
HENRY F. NOY
JAMES NOY




PANEL 3
JAMES W. PENFOUND
MABEL F. PHAROAH
PAMELA PIKE
MARY C. POWELL
WILLIAM J. POWELL
MURIEL L. PRICE
WILLIAM A. PRICE
GLADYS PULLEIN
WALTER PULLEIN
LEONARD RESTALL
CHARLOTTE RICHARDS
DORIS RICHARDS
IVY M. RICHARDS
GRACE E. RIPINER
LAURA RIPINER
ALAN ROBBINS
FLORENCE ROBBINS
ARTHUR E. RUSSELL
JOSEPH SAMMUT
THOMAS SAVAGE
FRANCIS P. SHELDON
CAROLINE A. SHEPHERD
GWENDOLINE A. SHEPHERD
MAUREEN C. SHEPHERD
RONALD E. SHEPHERD
GEORGE SINCLAIR


PANEL 4
LILIAN SLIDEL
DORIS E. SMITH
SAMUEL J. SMITH
ALFRED SNELLING
AMELIA S. STEVENSON
LEONARD A.G. THAYRE
AMELIA THOMPSON
ARTHUR WATKINS
ELSIE WATKINS
SYLVIA WATKINS
LESLEY WATSON
WILLAMINA WATSON
OLIVE WEEDON
VALERIE WEEDON
EDWARD WEEDON
ALBERT A.L. WHITNALL
MARTHA A. WINSER
CECILIA F.G. WINSTON
DORIS S. WOOD
AMOS S. WOOLVEN
SARAH WRIGLEY

ALSO
TO THE
MEMORYOF
THOSE
UNIDENTIFIED


PANEL 5

OUT OF THE DEPTHS OF
SORROW AND SACRIFICE
WILL BE BORN AGAIN
THE GLORY OF MANKIND





Further Details
Those commemorated are listed below with their dates and places of death plus their grave references (row/grave number). The names are linked to their entry in the Commonwealth War Graves Commission database whilst links from places are connected to other relevant memorials. They are listed according to their position on the original plaques; those who were 'UNIDENTIFIED' have been replaced in their relevant positions.


NOTES
Anne B. Judge is listed as Annie Marie Judge at CWGC
Emily McJanet is listed as Emma (or Emily) McJannett at CWGC
Laura Ripiner is listed as Lana Ripiner at CWGC
Maureen C. Shepherd is listed as Moreen Carol Shepherd at CWGC

The five grave references missing from the list above (1/1, 1/7, 2/20, 2/34 and 2/38) are assigned at the CWGC to serving members of the armed forces who died along with their family and/or friends in the incidents above. They were respectively, Doris Violet Grace Tipper, Reginald Henry Harris, A.W. Miller, Stephen Ernest Ripiner and Arthur Cyril Gates. All have CWGC headstones facing the civilian memorial. There is no evidence to suggest why grave reference 2/19 is missing.

The Search for the UNIDENTIFIED
Research carried out by Bob Hinds of The News led to the publication of his book "City of Gallant Hearts" in which he lists the names of every civilian who died from enemy action during the Second World War. There were 930 of them in total and Bob Hinds went on to provide much information about the life and death of each, including the date and place of death. It was this information that permitted the construction of the table above and as a byproduct allows us to make some assumptions about the names of the Unidentified on the list.

As the original plaque listed the names in their order of death (with just a couple of names out of place) we can deduce that where a block of the Unidentified appears in the middle of a sequence where the date remains the same, then they too probably died on that date. The first two blocks of them, totalling 11 names, appears within the sequence which records the date as 10th January 1941. From "City of Gallant Hearts" we can determine that 168 people lost their lives as a consequence of enemy action on that night, 36 of them are named on this memorial. If we can eliminate those that are buried elsewhere, the names that are left must correspond with the Unidentified.

The first stage in this elimination process was to submit the list of 132 names whose burial place was unknown to the Cemetery Manager whose staff very kindly went through their files and identified the graves of 84 of them within the three main cemeteries on Portsea Island. This left 48 names and the next problem of checking local cemeteries outside Portsmouth. This process is ongoing. The list of names unaccounted for follows below. If any reader can supply further information about them we would be most grateful.


Albery, Bertie Victor
Albery, Margaret Ann
Allen, John Willey
Ball, William
Barnes, George
Bartraham, Emily Elizabeth
Bushell, Maud
Cleeve, Grace Alice
Colley, Walter John Mark
Cooper, William Henry
Day, Robert Thornton Oscar
Densham, Richard William
Edwards, Albert Ernest
Evans, Vera Mary
Halson, Peter Edward Charles
Harbour, Elsie Edith
Harris, Muriel
Henrick, Lilian
Herrick, Alfred
Hodgson, Doris Emily
Hodgson, Raymond Thomas
Jewell, Albert Edward
Kirkham, Anthony James
Kirkham, Muriel
Kirkham, Peter
Lambert, Eleanor
Linnane, Bridget
Linnane, Mary
Male, Winifred
Morris, John
Morris, John Albert
Owers, Lucille Priscilla
Raymond, Emily
Ridge, Annie
Ridge, Charles
Ridge, Ruby
Tappin, George Henry
Taylor, Arthur Charles
Taylor, Ethel Victoria
Taylor, Iris Kathleen
Tombs, Madge Sarah
Tombs, Nellie Louisa
Tombs, Pearl
Tribbeck, Kitty
Wakeford, Mary
Weight, Lottie Louisa Anna Seymour
Whiteman, Harry James
Woodward, William


See also the East Side Memorial