Location
This memorial lies South-West of the ornamental pond on the central road in Kingston Cemetery, about 100m from the gates to St Mary's Road.

Description
The condition of the monument can best be described as poor, the inscription on the South side having been all but obliterated by the weather and that on the other sides only just legible (as at 23rd May 2002).


Memorial
HMS Racer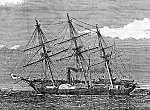 SPECIFICATIONS
Dimensions - 151x29ft
Armament - 11 32pdr
Launched - 4.11.1857
Builder - Deptford Dockyard
Fate - Broken up, Portsmouth, 1876

The illustration above comes from the Illustrated London News, Sept 23, 1871 and shows the ship stranded on sandbanks midway between Ryde Pier and Noman Fort with the steam-tug Grinder in the foreground.
Inscription (East Facing)
??
ERECTED
BY THE CAPTAIN, OFFICERS
AND SHIPS COMPANY OF HMS RACER
TO THE MEMORY OF
THEIR SHIPMATES WHO DIED
BY ACCIDENT AND OF YELLOW FEVER
DURING THE COMMISSION
1858-1862
Inscription (North Facing)
Of Yellow Fever
Mr THOS MARTIN
Mr GEO MOODY
Mr WS CLAIR
Mr THO FOSTER
Mr WM PHILPOTT
Mr E NEVE

?
?
MIDSHIPMAN
ENGINEER
ENGINEER
?
Hands
ROBT THOMAS
GEO WOOTON
ROB BARNES
JNO HOARE
SAML DRANE
GEO HARRIS
WM TYNELL
H WALKER

?
STOKER
STOKER
STOKER
?
?
?
?

Inscription (West Facing)
Of Yellow Fever
SEAMEN
WM H M MIN
AND CASEY
W KNIGHT
H WALLACE
JA HANDCOCK
JA MUSSUM

ORD
?
BIC
BIC
BIC
RMA

Death by Accident
WM CE ROBERTS
THO PACKMAN
FRED BROOKS
ED CARTER
GE HILS?ON

ENGINEER
?
?
ARMOURER
?

Inscription (South Facing)
??
Mr JOHN ROGERS
+ 7 names (Illegible)